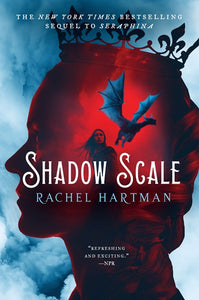 Dragons and humans are at war in this eagerly awaited sequel to the critically acclaimed and New York Times bestselling fantasy, Seraphina.

Seraphina is tangled in a war between the dragon rebels and the human court. The dark secret of her true identity--half-dragon, half-human--has now become her advantage. Only she has the power to unite the kingdom, and she intends to use it.
Embarking on a life-changing journey, Seraphina seeks to find the rest of her half-dragon brethren, whose unique gifts may make the difference in the battle for the future of her world. But gathering everyone together is no straightforward task. Hidden histories and outright lies surface that make her task almost impossible.
Then Seraphina learns that someone is working against her. What hope is there for brokering peace between dragons and humans when an unlikely enemy is determined to see both go up in flames?
Praise for Seraphina
A New York Times Bestseller
An Indie Bestseller
Winner of the William C. Morris Debut Award
Recipient of 8 Starred Reviews
"Some of the most interesting dragons I've read."
--Christopher Paolini, New York Times bestselling author of Eragon
"Full of grace and gravitas." -- The Washington Post
"Refreshing."-- Entertainment Weekly