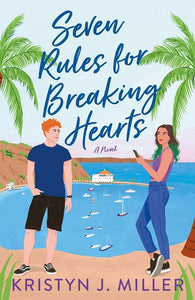 In this sparkling debut rom-com, a perpetually single podcaster has to break all of her own dating rules.
Margo Anderson is sworn off commitment. Alongside her best friend Jo, she runs a viral podcast laying down the ground rules for hooking up without catching feelings. So when Jo takes up a sponsor's offer to host an all-expenses-paid wedding on Catalina Island, they have the whole internet to answer to.

In a scramble for content to appease their disappointed listeners, Margo cooks up a social experiment: break all her own dating rules, just to prove to everyone that it's a bad idea. All she needs now is someone to break them with, and thanks to the wedding, she's found the best man for the job. Declan Walsh is about as smug and annoying as he was in high school, though he's maybe a bit easier on the eyes than Margo remembered. More importantly, there is no chance she'd ever catch feelings for him.

The more time they spend together through cake tastings and photoshoots, the more Declan sees past all the filters. As the wedding looms ever closer, the careful façade Margo wears for social media starts to chip away. There's just one problem: she's not sure anyone's going to like what they find underneath.