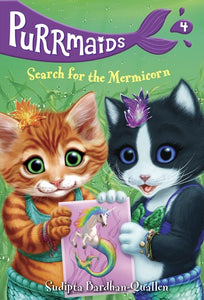 The adorable mermaid-kittens (and unicorn-mermaid!) in this chapter book series will have fans of Magic Kitten and the Fairy Animal series paw-sitively hooked from page one!
What's better than a purrmaid? A mermicorn!
Coral, Angel, and Shelly can't wait to work on their school project about creatures in the ocean. There are so many animals to choose from! How do you pick just one? Then Angel remembers something she read about in a book--a mermicorn! It's perfect...but are mermicorns real? Angel thinks so! And a student at the Science Center just might help her prove it!