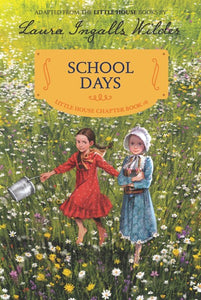 Grand adventures await in the Little House Chapter Books, adapted from Laura Ingalls Wilder's beloved classics. Illustrated with beautiful new black-and-white interior artwork and brand-new cover art, these repackages feature games, activities, and more!
The Ingalls family has settled near town, and it's finally time for Laura and her sister Mary to start school. Laura wants to stay home and play, but Ma says she should be learning to read instead of running wild. Laura soon realizes she can learn and have fun at school, and she especially loves having new friends to play with at recess!
Just in time for the 150th anniversary of Laura Ingalls Wilder's birth, we're reintroducing these charming chapter books to a whole new generation of readers. This repackaged edition features new bonus material, new cover art, and new black-and-white interior art throughout.