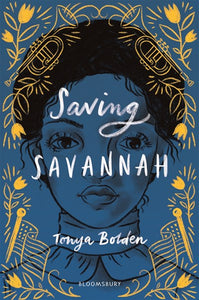 From acclaimed author Tonya Bolden comes the story of a teen girl becoming a woman on her own terms against the backdrop of widespread social change in the early 1900s.
Savannah Riddle is lucky. As a daughter of an upper class African American family in Washington D.C., she attends one of the most rigorous public schools in the nation--black or white--and has her pick among the young men in her set. But lately the structure of her society--the fancy parties, the Sunday teas, the pretentious men, and shallow young women--has started to suffocate her.
Then Savannah meets Lloyd, a young West Indian man from the working class who opens Savannah's eyes to how the other half lives. Inspired to fight for change, Savannah starts attending suffragist lectures and socialist meetings, finding herself drawn more and more to Lloyd's world.
Set against the backdrop of the press for women's rights, the Red Summer, and anarchist bombings, 
Saving Savannah
 is the story of a girl and the risks she must take to be the change in a world on the brink of dramatic transformation.