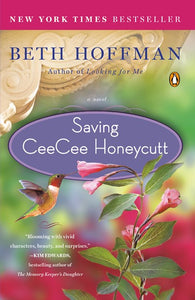 Steel Magnolias

 

meets

 

The Help

 

in Beth Hoffman's

 

New York Times

 

bestselling Southern debut novel,

 

Saving CeeCee Honeycutt

 


Twelve-year-old CeeCee Honeycutt is in trouble. For years, she has been the caretaker of her mother, Camille, the town's tiara-wearing, lipstick-smeared laughingstock, a woman who is trapped in her long-ago moment of glory as the 1951 Vidalia Onion Queen of Georgia. When tragedy strikes, Tootie Caldwell, CeeCee's long-lost great-aunt, comes to the rescue and whisks her away to Savannah. There, CeeCee is catapulted into a perfumed world of prosperity and Southern eccentricity--one that appears to be run entirely by strong, wacky women. From the exotic Miz Thelma Rae Goodpepper, who bathes in her backyard bathtub and uses garden slugs as her secret weapons; to Tootie's all-knowing housekeeper, Oletta Jones; to Violene Hobbs, who entertains a local police officer in her canary-yellow peignoir, the women of Gaston Street keep CeeCee entertained and enthralled for an entire summer.

 


A timeless coming of age novel set in the 1960s, 

Saving CeeCee Honeycutt

 explores the indomitable strengths of female friendship, and charts the journey of an unforgettable girl who loses one mother, but finds many others in the storybook city of Savannah. As Kristin Hannah, author of 

Fly Away

, says, Beth Hoffman's sparkling debut is "packed full of Southern charm, strong women, wacky humor, and good old-fashioned heart.