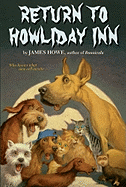 HOW DID ROSEBUD CHECK OUT FROM HOWLIDAY INN?
The Monroes have gone on vacation, once again leaving Harold, Chester, and Howie at Chateau Bow-Wow, which Chester aptly dubbed Howliday Inn during their last stay there. The motley crew of boarders may have changed, but the creepy goings-on at Howliday Inn have not. A ghostly voice, buried bones, and a collar with the name Rosebud on it suggest that murder may have been added to the services offered at the kennel.
A pair of yuppie puppies from posh Upper Centerville, two cat burglars (sisters-in-crime) named Felony and Miss Demeanor, a melancholy Great Dane named Hamlet, and a weasel named, well, The Weasel, join the Monroe pets in getting to the bottom of the mysterious happenings. But will they be able to escape the fate that may have befallen Rosebud?