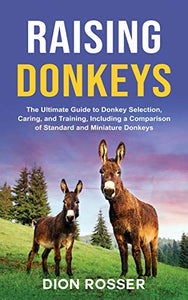 If you want to learn how to raise donkeys, then keep reading...
Donkeys are a unique and hardy creature with a long-running history living alongside humans.
They have long been used to provide agricultural labor, hauling small loads, and even as transportation for people across the Silk Road.
Have you ever thought about raising donkeys for profit?
Have you wondered what is involved in caring for and managing these animals?
This guide will provide all the information you need to have a basic understanding of the history of donkeys, their care, feeding, grooming, breeding, and more.
In this book, you'll discover...
Their storied history alongside man as both beasts of burden and military assistants.
Discover the most common breeds of donkey.
Understand the fine points of purchasing a healthy donkey.
Learn their unique dietary needs and what not to feed them.
Understand the ins and outs of caring for donkeys, including the materials required for proper care.
Discover their unique breeding process and how to breed donkeys and mules successfully and safely.
Discover the long history of donkey milk as medicine and high-end beauty product.
Discover the myriad of ways you can make an income from raising, breeding, and caring for these animals.
This guide provides readers with a wide breadth of information, from the history of the donkey and its interactions with humans to lucrative ways you can make money raising and caring for donkeys in today's competitive environment.
Though not as well-known as the horse, the humble donkey is a great animal for a wide range of uses, from a companion animal to a guard for livestock on a farm.
With their long history alongside man, the donkey has a unique role in our history and will continue to be a part of our lives in the future.