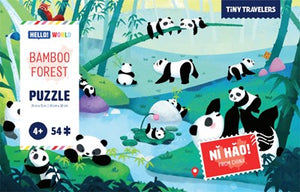 Inspire children to fall in love with the world they live in with Tiny Travelers!
Come play and learn with our
Puzzle: Bamboo Forest
,
as part of our new line of fun, educational products,
offering engaging adventure-based learning
through interactive physical play experiences.
Bring the bamboo forest and its cuddly panda inhabitants to life with this 54-piece puzzle! Start with all the pieces facing up and one-by-one, put this playful scene together.
Format:
54 puzzle pieces. The assembled puzzle is 24 x 15 and made of a thick greyboard, perfect for small hands. Includes a postcard with the assembled puzzle image on one side and fun facts about pandas and China on the other, making playtime fun and educational. Beautiful art inspired and taken from the Tiny Travelers Treasure Quest book colletion.
Most kids today are told that it's a small world, when in fact it's a really big world, says Encantos CEO and Tiny Travelers creator and author Steven Wolfe Pereira. And because the world is so big, there are many countries, cities, and cultures that have yet to be discovered and explored by kids. We created Tiny Travelers to foster curiosity, empathy, and understanding by learning what makes people and places so special.
A+ educational content....Wonderful... to share with young kids -- to broaden their horizons and discover new places of interest!" -- Common Sense Media
Purpose is at the core of the Tiny Travelers launch...The goal is to expose kids to the vastness and diversity of the world beyond their backyards, engendering empathy for different cultures, geographies and languages at a time when people all over the world are more connected than ever via digital platforms. -- Forbes
***Puzzles can not be shipped by Media Mail. Please choose another shipping mode at check out.***