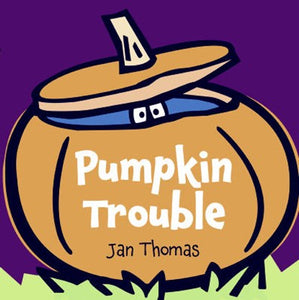 Author: Jan Thomas
A delightfully silly holiday treat and irresistible read-aloud for young Halloween lovers from the creator of What Will Fat Cat Sit On?

WARNING: Reading aloud this tale of a Halloween celebration gone awry guarantees giggles and guffaws and leads to listeners laughing themselves silly!

Duck wants to surprise Pig and Mouse with a Halloween jack-o'-lantern. But Duck suddenly disappears—and a giant pumpkin monster appears! Pig and Mouse run for their lives! Who will save the day?

With an exquisitely chosen handful of words, bright colors, and bold illustrations, Jan Thomas brings her genius for engagingly funny read-aloud tales to young readers' favorite holiday. When it's time for trick-or-treating, this paper-over-board picture book is definitely a treat!