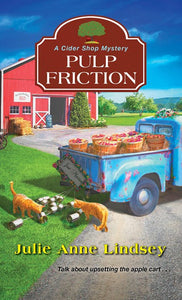 Author: Julie Anne Lindsey
Nothing's sweeter than a fruitful family business, and for Winona Mae Montgomery and her Granny Smythe, that means Smythe Orchards in Blossom Valley, Virginia. But this year's apple crop is especially juicy--with scandal . . .
SEEDS OF DANGER

Thanks to Winnie's new cider shop, Smythe Orchards is out of the red and folks can get their fix of the produce and other delectable products they love all year round. The locals are even booking the shop for events, including a June wedding! Winnie couldn't be happier to see the barn filled to the rafters for the big bash--until her doting ex, Hank, is caught in a heated argument with the groom. Winnie plans to scold Hank after the party, but spots him running off instead. And when the groom turns up dead, apparently hit by the honeymoon getaway car, Hank is the main suspect. Now Hank is on the lam, and it's up to Winnie to get to the core of the truth--before the real killer puts the squeeze on her . . .

"Readers will appreciate the good will of Lindsey's characters in this warmly written, cider-centric cozy series."
--Kirkus Reviews
Includes Recipes!