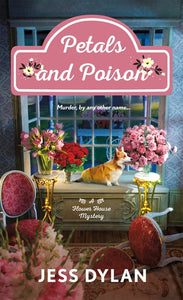 Petals and Poison is the second in a colorful cozy mystery series from Jess Dylan, set in a flower shop with a knack for attracting trouble as well as customers...

 


"Like her protagonist Sierra, Jess Dylan has manifested a charming cozy with humor, folksy dialogue, Southern charm, and a page-turning mystery." -Peg Cochran,

 

USA Today

 

Bestselling Author

 


Sierra Ravenswood has embraced her role as owner of Flower House floral shop and companion to her former boss's pet, Gus the Corgi. Sierra's team are enjoying their new jobs too. At least until everyone realizes their lack of experience might be contributing to their lack of customers . . .

 


Sierra decides they need a change in luck, so she creates a special window display featuring lucky bamboo and auspicious flowers. It seems the new arrangement has worked when the shop is flooded with customers the next day, including a van full of college students on a horticulture club field trip. Unfortunately, Sierra doesn't notice that the students' distracted professor has gone missing until Gus's urgent barking leads her to the storeroom - and the body of the unfortunate professor.

 


With folks now referring to Flower House as "Poison House" and suspects galore, Sierra fears her new business is doomed before it has a chance to get off the ground. Determined to reverse course and see justice served, she sets out to solve the crime and change her luck once more.

 


The Flower House is no place

 

for shrinking violets

.