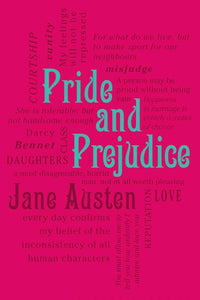 Author: Jane Austen
No home library is complete without the classics! Pride and Prejudice is a keepsake to be read and treasured.
First published in 1813, 
Pride and Prejudice
 is one of the most popular and beloved British novels of all-time, maintaining its allure for contemporary readers everywhere and selling millions of copies worldwide! Jane Austen's novel tells the story of the five unmarried Bennet sisters, daughters of a humble country squire, as they deal with the issues of marriage, manners, and upbringing in English country life. Now available as part of the Word Cloud Classics series, 
Pride and Prejudice
 is a must-have addition to the libraries of all classic literature lovers.
About the Word Cloud Classics series:
Classic works of literature with a clean, modern aesthetic! Perfect for both old and new literature fans, the Word Cloud Classics series from Canterbury Classics provides a chic and inexpensive introduction to timeless tales. With a higher production value, including heat burnished covers and foil stamping, these eye-catching, easy-to-hold editions are the perfect gift for students and fans of literature everywhere.