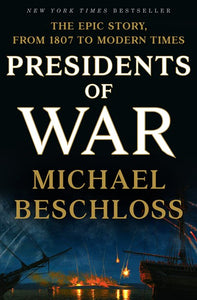 NEW YORK TIMES BESTSELLER - From a preeminent presidential historian comes a "superb and important" (The New York Times Book Review) saga of America's wartime chief executives

"Fascinating and heartbreaking . . . timely . . . Beschloss's broad scope lets you draw important crosscutting lessons about presidential leadership."--Bill Gates
Widely acclaimed and ten years in the making, Michael Beschloss's Presidents of War is an intimate and irresistibly readable chronicle of the Chief Executives who took the United States into conflict and mobilized it for victory. From the War of 1812 to Vietnam, we see these leaders considering the difficult decision to send hundreds of thousands of Americans to their deaths; struggling with Congress, the courts, the press, and antiwar protesters; seeking comfort from their spouses and friends; and dropping to their knees in prayer. Through Beschloss's interviews with surviving participants and findings in original letters and once-classified national security documents, we come to understand how these Presidents were able to withstand the pressures of war--or were broken by them.
Presidents of War combines this sense of immediacy with the overarching context of two centuries of American history, traveling from the time of our Founders, who tried to constrain presidential power, to our modern day, when a single leader has the potential to launch nuclear weapons that can destroy much of the human race.

Praise for Presidents of War
"A marvelous narrative. . . . As Beschloss explains, the greatest wartime presidents successfully leaven military action with moral concerns. . . . Beschloss's writing is clean and concise, and he admirably draws upon new documents. Some of the more titillating tidbits in the book are in the footnotes. . . . There are fascinating nuggets on virtually every page of Presidents of War. It is a superb and important book, superbly rendered." --Jay Winik, The New York Times Book Review
"Sparkle and bite. . . . Valuable and engrossing study of how our chief executives have discharged the most significant of all their duties. . . . Excellent. . . . A fluent narrative that covers two centuries of national conflict." --Richard Snow, The Wall Street Journal