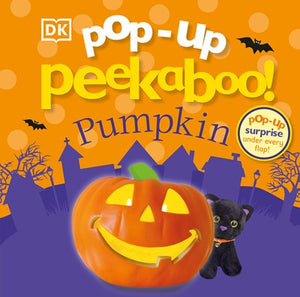 An interactive pop up book that inspires hands-on learning. Tactile elements and delightful imagery will encourage the development of motor skills and early learning.

Bold, brightly colored pictures, lift-the-flap pages and entertaining rhymes. Pop up Peekaboo: Pumpkin provides slots of opportunities for parent-and-child interaction and hours of Halloween fun!
Babies and toddlers will be enchanted by finding the surprises behind each flap. This interactive toddler book for 2 year olds helps teach young children object permanence, which is an important step in childhood development. Turning the pages and moving the pop-ups help toddlers learn motor control for improved dexterity.
Inside the pages of this pop-up adventure book, you'll find:
Hands-on play that builds confident book skills
Look-and-find peekaboo games that reward curiosity
Rhythmic, read-aloud text that aids language development
Rounded edges and chunky pages, protecting babys and their growing teeth!
This pop up book has been designed as an all-round activity learning experience, to get the most out of story time. Read aloud the lively rhymes that create the amusing story for your kids to follow, and play a guessing game of who is behind the flap! The rhymes and the easy-to-read text help preschoolers remember the new words they are learning for early language development.