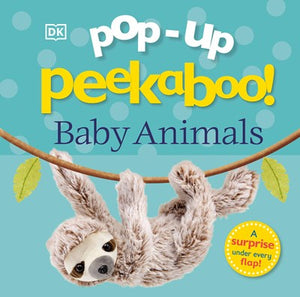 Come join a hide-and-seek adventure in the rainforest! Search the branches and leaves to find where all the baby animals are hiding.
There's a little elephant splashing in the lake and a sleepy sloth in the vines, just lift the flaps for a pop-up surprise! Read the lively rhymes and make story time fun!
Follow the beautifully illustrated animal escapades through the rainforest with parents and their babies. This lift-the-flap board book is packed with adorable photos of stuffed toys that you'll just want to cuddle. Find the silly monkey and the lively tree frog.
Babies and toddlers will be enchanted by finding the surprises behind each flap. This interactive book helps teach young children object permanence, which is an important step in childhood development. Turning the pages and moving the pop-ups help toddlers learn motor control for improved dexterity.
This book has been designed as an all-round activity learning experience, to get the most out of story time. Read aloud the lively rhymes that create the amusing story for your kids to follow, and play a guessing game of who is behind the flap! The rhymes and the easy-to-read text help preschoolers remember the new words they are learning for early language development.