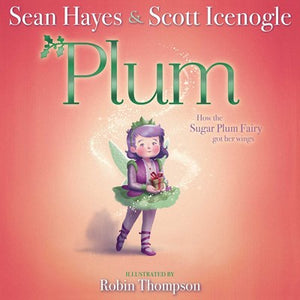 "An adorable children's book...about the holidays, inclusion, and magic!" --Kristen Bell, award-winning actress from Frozen and The Good Place
"Want to make this holiday more magical? Then get your copy!" --Allison Janney, award-winning actress from Mom and I, Tonya
"Great for kids this holiday season!" --Jessie Tyler Ferguson, award-winning actor from Modern Family
From Will & Grace star Sean Hayes and composer Scott Icenogle comes a modern classic inspired by The Nutcracker about how the Sugar Plum Fairy got her wings.
Plum will not stay glum.
For as long as she can remember, Plum has lived at the Mary Fitzgerald Orphanage, wishing and hoping for a family. When a sudden snowfall threatens a delivery of presents on Christmas Eve, Plum is determined to save Christmas--even for the kids who laugh at her.
Plum's pure heart grants her an unexpected reward. When she eats a cake left behind by a mysterious magician, she is transported into the Land of Sweets. But Christmas here is threatened, too--by a sourness that is spreading from the center of the land. Plum's determined to help, and in doing so, she might just find the family she's always dreamed of, thanks to a good heart--and Christmas magic!