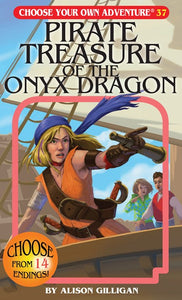 Author: Alison Gilligan
CHOOSE YOUR OWN ADVENTURE-the 4th-bestselling series for children ever published!

The thirty-seventh title in the middle grade Choose Your Own Adventure series for readers ages 9-12.

Pirate Treasure of the Onyx Dragon by Alison Gilligan takes YOU on an adventure with your sister to uncover the mystery of an old shipwreck and your father's disappearance.

Written from the second-person point of view, the reader is searching for clues about the shipwrecked Onyx Dragon's treasure, and must choose what happens next in the story:
If you choose to head back toward shore, turn to page 29.
If you decide to dive now, turn to page 47.

You and your sister are on an adventure to uncover the truth about the shipwrecked pirate ship the Onyx Dragon and the fabled treasure on board. Your father left you some clues about the treasure before he disappeared a few years ago. But your Aunt Lydia seems nervous when you talk about the Onyx Dragon. Should you search for a hidden map or follow the mysterious lights that appear in the sky? If you pursue this treasure hunt, will you break up an international crime ring or become a jewelry thief, yourself?

Middle grade readers will dig for clues in an old diary, uncover a family secret, go deep sea diving, and foil a plot to steal an invaluable treasure, all while having fun reading and choosing.