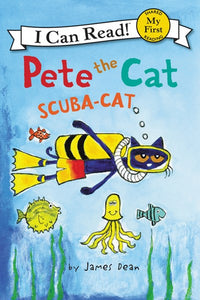 Check out the way-cool ocean creatures while Pete searches high and low for his favorite fish in his latest beginning reader adventure.
 
Pete is so excited to go scuba diving. Captain Joe tells him about the creatures he might discover under the waves. Pete really wants to see a seahorse. But all suited up and in the water, Pete has to search high and low to find one. His groovy adventure ends with a surprise—and a cool new friend for Pete!

Beginning readers will love floating along with Pete the Cat in his first undersea adventure.