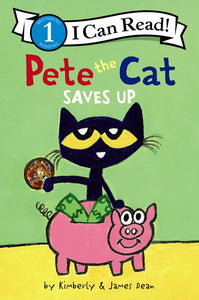 In the twenty-second Pete the Cat I Can Read! (Level One) from New York Times bestselling creators Kimberly and James Dean, Pete the Cat earns and saves money to buy a supercool toy.
Pete the Cat wants a supercool Sharkbot toy, but he doesn't have enough money in his piggy bank. He takes on odd jobs, from shoveling snow to selling lemonade and more, and saves every penny. How long will it take for him to save enough money to buy the toy? 
Early readers will enjoy learning about saving money while reading with Pete the Cat!