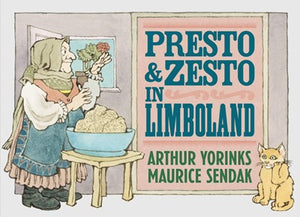 Author: Maurice Sendak
"The pictures are vintage Sendak: wry, wild, and with all sorts of mysteries tucked away in the corners. Yorinks, using his trademark clever nonsense iced with irony, reveals a tale that links everything together in riotous fashion. An unexpected gift." --Booklist (starred review)
"The images hold some of the irrational, dreamlike childhood fears that Sendak returned to throughout his life as an artist, but Yorinks's broad humor makes the menace as easy to push aside as a theater curtain. It's a joy." --Publishers Weekly (starred review)
Fans of Maurice Sendak's Caldecott Medal-winning Where the Wild Things Are will love Presto and Zesto in Limboland--a never-before-published picture book collaboration between Maurice Sendak and Arthur Yorinks, author of Caldecott Medal winner Hey, Al.
This marvelous tale tells the story of two friends, Presto and Zesto, and how they find themselves lost in the magical, mysterious place called Limboland.
Author Arthur Yorinks said: "Nearly twenty years ago, Maurice and I, inspired by our friendship, conceived this book about two friends making their way in a very mixed-up world." The story indeed turns the world upside down and on its head as Presto and Zesto wander into the alternate universe of Limboland.
And, in the best and most familiar Sendak and Yorinks tradition, the rest of the story is an attempt to find their way home past a jumbled cast of characters. This is the third collaboration between Yorinks and Sendak, following The Miami Giant (1995) and Mommy? (2006), and is an homage to their long-time friendship.