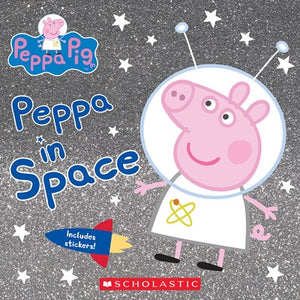 Peppa Pig visits the museum with her family and learns all about outer space in this adorable 8x8 with glitter all over the cover! Based on the hit TV show, as seen on Nick Jr.

Get ready for a Peppa Pig story that's out of this world!
Peppa, George, Mummy Pig, and Daddy Pig visit the museum to learn about outer space. They take a pretend trip through the planets, all the way to the moon!
With silver glitter on the cover, this paperback storybook is sure to grab the attention of Peppa fans and their parents!