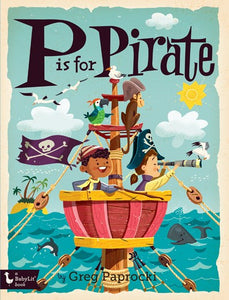 Learn with your toddler from A to Z about the world of pirates—the jargon they use and the tools they need—through fun, silly, and engaging illustrations.
An engaging collection of illustrations teaching children all about the silly and fun world of pirates. Have fun reading with your child from A to Z as you come across letters such as these: A for Ahoy, matey!; D for Daring; O for Overboard; and S for "Shiver me timbers!" Each illustrated page contains a special hidden character that kids will find running throughout the whole book.
Illustrator Greg Paprocki's popular BabyLit alphabet board books feature his classically retro mid-century art style that's proven to be a hit with both toddlers and adults.