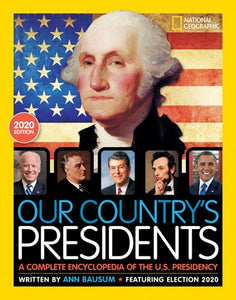 Revised and updated to include the winner of the 2020 presidential election, this photo-filled and fact-packed book is a timely must-have reference.
National Geographic presents the 45 individuals who have led the U.S. in this up-to-date, authoritative, and lavishly illustrated family, school, and library reference.
Key features include:
Information about the 2021 president-elect and the 2020 election results as of the publication date
A brand-new thematic spread on the impeachment process and its history
Revised terminology around the language of slavery and analysis of early presidents who benefitted from and relied on enslaved labor
Comprehensive profiles of all the former presidents along with timelines and descriptions of crucial events during their terms
Thematic spreads covering a variety of topics from the history of voting rights to how to write a letter to the president
Full-page portraits, famous quotes, and fascinating facts to help kids get to know each leader
A fascinating read and excellent reference for students and kids of all ages!