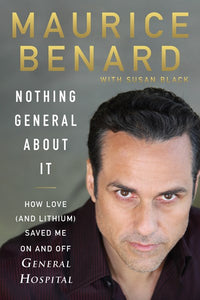 ***PRE-ORDER***AVAILABLE 4-07-20***
Biography, Hardcover
"This shocking true story is General Hospital on anabolic steroids." -- Mehmet Oz, M.D., Emmy Award-winning host of The Dr. Oz Show
The Emmy Award-winning star of General Hospital chronicles his astonishing and emotional life journey in this powerful memoir--an inspiring story of success, show business, and family, and his struggle with mental illness.

Maurice Benard has been blessed with family, fame, and a successful career. For twenty-five years, he has played one of the most well-known characters on daytime television: General Hospital's Michael "Sonny" Corinthos, Jr. In his life outside the screen, he is a loving husband and the father of four. But his path has not been without hardship. When he was only twenty, Maurice was diagnosed with bipolar disorder.
In Nothing General About It, Maurice looks back to his youth in a small town and his tenuous relationship with his father. He describes how his bipolar disorder began to surface in childhood, how he struggled to understand the jolting mood swings he experienced, and how a doctor finally saved his life. For years Maurice was relentless in his goal to be a successful actor. But even after he "made it," he still grappled with terrifying lows, breakdowns, and setbacks, all while trying desperately to maintain his relationship with his wife, who endured his violent, unpredictable episodes. Maurice holds nothing back as he bravely talks about what it was like to be medicated and institutionalized, and of how he learned to manage his manic episodes while on the set of GH.
Nothing General About It is also an incredible love story about an enduring marriage that demonstrates what those vows--for better, for worse, in sickness and in health--truly mean. Maurice also pays tribute to the community that has been there for him through thick and thin, and ruminates on the importance of both inherited and created family.
A shocking, riveting, and utterly candid memoir of love, adversity, and ultimately hope, Nothing General About It offers insights and advice for everyone trying to cope with mental illness, and is a motivational story that offers lessons in perseverance--of the importance of believing in and fighting for yourself through the darkest times.
Nothing General About It includes a 16-page insert featuring approximately 50 photographs.