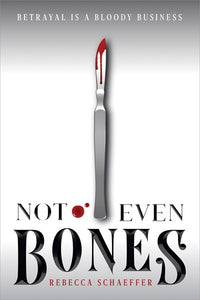 "Twisty, grisly, genre-bending and immersive,

 

Not Even Bones

 

will grab you by the throat and drag you along as it gleefully tramples all of your expectations." --Sara Holland,

 

New York Times

 

best-selling author of

 

Everless

 


Nita doesn't murder supernatural beings and sell their body parts on the internet--her mother does that. Nita just dissects the bodies after they've been "acquired." Until her mom brings home a live specimen and Nita decides she wants out; dissecting a scared teenage boy is a step too far. But when she decides to save her mother's victim, she ends up sold in his place--because Nita herself isn't exactly "human." She has the ability to alter her biology, a talent that is priceless on the black market. Now on the other side of the bars, if she wants to escape, Nita must ask herself if she's willing to become the worst kind of monster.