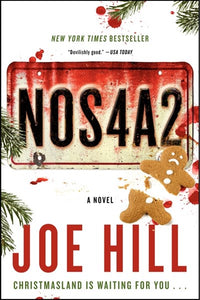 New York Times Bestselling Author

DON'T SLOW DOWN
"One of America's finest horror writers" (Time magazine) takes you on a thrilling plunge into darkness. . . .A new novel of supernatural suspense that will have you flinching at shadows and checking the rearview mirror again and again . . .
"A major player in 21st-century fantastic fiction." —Washington Post
What's good stays good, no matter how much of a beating it takes. . . .

Victoria McQueen has a secret gift for finding things: a misplaced bracelet, a missing photograph, answers to unanswerable questions. On her dayglo blue Raleigh Tuff Burner bike, she makes her way to a rickety covered bridge that, within moments, takes her wherever she needs to go, whether it's across Massachusetts or across the country.

Vic doesn't tell anyone about her unusual ability because she knows that no one would believe her. She has trouble understanding it herself. And she knows it isn't free. Each time she makes a trip across that bridge, a piece of herself is lost.

But Vic isn't the only one with a special gift.