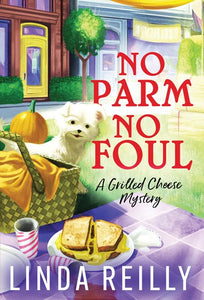 The second in a new cozy series! The muensters have arrived in Balsam Dell when a body is discovered at the Grilled Cheese Eatery
The muensters have arrived in quaint Balsam Dell, Vermont! Grinning jack-o-lanterns glow from front porches and Halloween spirit reigns. After a long hot summer, Carly Hale is delighted that her grilled cheese eatery is thriving and the upcoming food competition—the town's "Scary-Licious Smorgasbord"—is the perfect way to bring some additional traffic to the Eatery, along with a $500 cash prize.
But Ferris Menard, the owner of Sub-a-Dub-Sub, is nursing a serious grudge against Carly. Two days before the competition, one of Carly's employees quit his part-time gig at Menard's sub shop, alerting the local health inspector to some unsavory cooking standards and sending Menard into a serious snit. In a confrontation witnessed by Carly's customers, Menard accused Carly of sabotage and vowed to expose her as a fraud.
That's when Menard's body is found in his kitchen the morning after the competition, a steak knife sticking out of his heart, Carly's name instantly pops up in the investigation. But Menard had a slew of enemies, and if Carly doesn't figure out which one is the culprit, she might find herself—or someone she cares about—serving grilled cheese sandwiches under lock and brie!