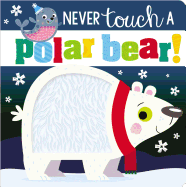 You must never touch a polar bear . . . unless it's in this book! This festive touch-and-feel board book is great for children of all ages and fits perfectly into tiny hands. Kids will love reading the silly rhymes that warn the dangers of touching the wintery animals--and then ignoring the advice!
Children of all ages, 0 and up, will enjoy:
The innovative and engaging silicone touch-and-feel features on every spread
The bright and vibrant illustrations
The silly and easy-to-read rhymes that involve the fun winter animals
Receiving this fun book as a birthday gift, stocking stuffer, Easter basket goody, road trip activity, or just because
Parents and their little ones will enjoy reading aloud Never Touch a Polar Bear again and again.
If your child enjoys Never Touch a Polar Bear, check out the rest of the Never Touch ... series: Never Touch a Porcupine, Never Touch a Shark, Never Touch a Spider, Never Touch a Dinosaur, Never Touch a Dragon, Never Touch a Monster, and Never Touch a Tiger.