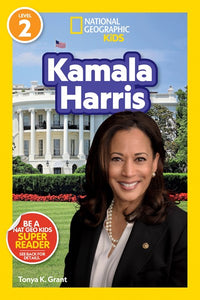 Explore one of the most powerful and highest-ranking female figures in American history with this biography of Vice President Kamala Harris in this Level 2 reader.
On January 20, 2021, Kamala Harris made history. That day, she became the first woman, the first Black American, and the first South Asian American to be elected as Vice President of the United States. Young readers will learn about Harris's childhood, her early career, and her journey that led to winning the vice presidency. This early reader also explores how Harris devoted her life to helping others, from serving as the Attorney General of California, to being elected as a U.S. Senator, to working alongside President Joe Biden on the campaign trail and in the White House.
The level 2 text provides accessible, yet wide-ranging information for independent readers. Explore Harris's life, achievements, and the challenges she faced along the way to becoming a barrier-breaking leader and an inspiration to young people everywhere.
Key features include:
Expert-vetted text appropriate for ages 5 to 8
Engaging and brilliant historical images sourced by National Geographic
Fun approach to high-interest biographies
About the series: This high-interest, educationally-vetted readers series features magnificent National Geographic images accompanied by text written by experienced, skilled children's book authors. Each reader includes a glossary and interactive features in which kids get to use what they've learned in the book. Level 1 readers reinforce the content of the book with a kinesthetic learning activity. Level 2 readers feature slightly higher-level text and additional vocabulary words. Level 3 readers have more layers of information to challenge more proficient readers. For emerging readers, the Pre-reader level introduces vocabulary and concepts, and the Co-reader level provides a collaborative reading experience.