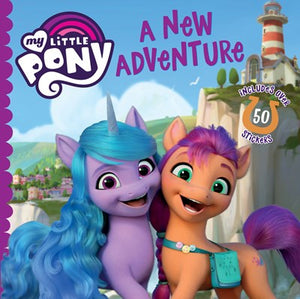 This all-new storybook is based on the My Little Pony movie--available to stream on Netflix starting September 24, 2021!
Led by an all-new pony, this new group of friends set off on the adventure of a lifetime to save Equestria in this complete retelling of the My Little Pony movie. This book includes stickers!
In the new movie, the pony world of Equestria has lost its magic. Friendship and harmony have been replaced by mistrust, and Ponies now live separated by species. Sunny--a feisty and idealistic young Earth Pony--is convinced there's still hope for this divided world.
When Sunny befriends a lost Unicorn named Izzy, they embark on an epic adventure that will include a daring jewel heist, outrageous conspiracy theories, elaborate musical numbers, and the world's cutest flying Pomeranian. The world Sunny has dreamed of her entire life could finally become a reality as Sunny and her newfound friends fight to prove that even little ponies can make a big difference!