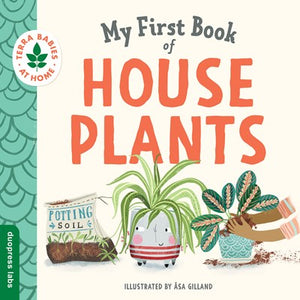 An innovative, fully recyclable board book for babies and toddlers that introduces the beautiful world of houseplants and helps children connect with the natural world.
Introducing Terra Babies at Home, a new board book series that presents plants, animals, and the environment to early readers from the intimacy of their home and helps them connect to the natural world.
My First Book of Houseplants 
is a beautiful introduction to the world of houseplants for babies and toddlers, helping them to develop a connection with the natural world. Like other titles in the earth-friendly series Terra Babies at Home, this book is made with FSC materials and nontoxic inks, and it is recyclable.
Simple and quirky text pairs with charming art by Åsa Gilland (
The Perfect Shelter
)
in this book where future nature lovers will learn about houseplants in a friendly and easy way while being introduced to basic concepts of plant care and the environment. 
"The spider plant looks silly … like it needs a haircut!" we read. "And the iron plant is very elegant"; readers will learn that some plants have beautiful flowers, like the peace lily, and others can make you smile, like the lucky bamboo. And that's not all: The book shows readers how to start their own houseplant project in seven easy steps!