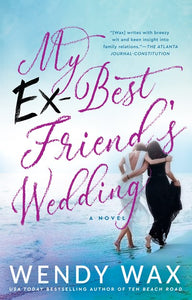 Author: Wendy Wax
A wedding dress passed down through generations unravels the tangled threads of three women's lives in a novel of friendship, family, and forgiveness from the USA Today bestselling author of Ten Beach Road.
Prized and stored away for safekeeping, the timeless ivory wedding dress, with its scooped neck and cleverly fitted bodice, sits gently folded in its box, whispering of Happily Ever Afters. To Kendra, Brianna, and Lauren it's a reminder of what could have been, the promise of a fairy tale, and a friendship torn apart. But as Kendra knows firsthand: it wasn't the dress's fault.
Once closer than sisters, Lauren and Bree have grown up and grown apart, allowing broken promises and unfulfilled dreams to destroy their friendship. A successful author, Lauren returns home to the Outer Banks, fiancé in tow, to claim the dress she never thought she'd wear. While Bree, a bookstore owner, grapples with the realities of life after you marry the handsome prince. As the former best friends wrestle with their uncertain futures, they are both certain of one thing: some betrayals can never be forgiven.
Now on the eve of her daughter Lauren's wedding, Kendra struggles with a secret she's kept for far too long. And vows to make sure the dress will finally bring Lauren and Bree back together--knowing they'll need each other to survive the coming storm.