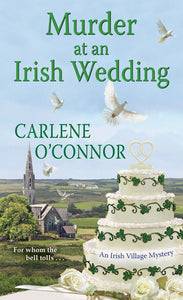 For whom the bell tolls . . .
 The O'Sullivan clan of County Cork, Ireland, are thrilled to be catering the matrimonial affairs of a celebrity couple—until a cunning killer turns an Irish wedding into an Irish wake . . . 
Any wedding is a big deal in the small village of Kilbane—even more so when the bride is a famous fashion model. Siobhán O'Sullivan and her five siblings have a full plate catering for the three-day affair. But when the best man is found murdered in the woods, his replacement, Siobhán's own beau, local garda Macdara Flannery, is suddenly the best suspect. Like the bride walking down the aisle, Siobhán needs to watch her step. For as she gets closer to unveiling the truth, the murderer is planning a very chilly reception for her . . .