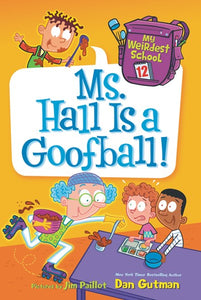 Author: Dan Gutman
With more than 12 million books sold, the My Weird School series really gets kids reading!

In this twelfth book in the My Weirdest School series, there's a new lunch lady at Ella Mentry! Ms. Hall is obsessed with healthy food, and she makes it her mission to get A.J. and the gang to eat more veggies. But they won't take this sitting down.
Can Ms. Hall lure them over to the veggie side? Or will their resistance be a piece of cake?
Perfect for reluctant readers and all kids hungry for funny school stories, Dan Gutman's hugely popular My Weird School chapter book series has something for everyone. Don't miss the hilarious adventures of A.J. and the gang!