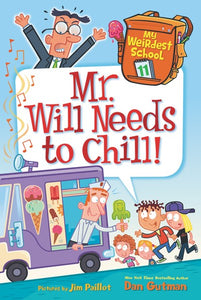 Author: Dan Gutman
With more than 12 million books sold, the My Weird School series really gets kids reading!
In this eleventh book in the My Weirdest School series, local ice-cream man Mr. Will is bringing delicious treats to Ella Mentry School! But Dr. Carbles has banned desserts forever and will stop at nothing to ensure that no one breaks the rules.
Will A.J. and the gang ever get to enjoy the sweet taste of a push-up pop again?!
Perfect for reluctant readers and all kids hungry for funny school stories, Dan Gutman's hugely popular My Weird School chapter book series has something for everyone. Don't miss the hilarious adventures of A.J. and the gang!