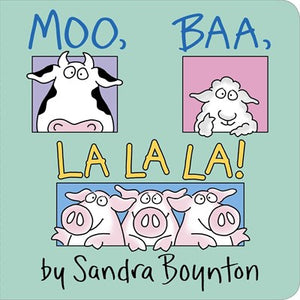 This raucous story about animals and the sounds they make, including three pigs who say "LA LA LA!" is a read-aloud favorite.
Sandra Boynton's wildly popular, 
Moo, Baa, La La La!
, features her lively and spirited text that introduces readers to animals and the noises they make. A quiet final spread begs the little ones and their caregivers to 
OINK!
, 
SNORT!
, 
QUACK!
, and 
MEOW!
 in a noisy animal ending.
A cow says MOO.A sheep says BAA.Three singing pigs sayLA LA LA!