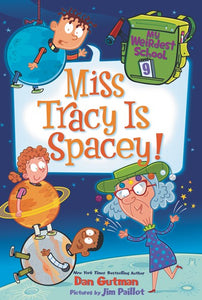 Author: Dan Gutman
With more than 11 million books sold, the My Weird School series really gets kids reading!
In this ninth book in the new My Weirdest School series, Miss Universe is coming to Ella Mentry School! Her real name is Miss Tracy, and she's a retired scientist who will teach the students about planets and the solar system. But what happens when A.J. is cast as the planet Uranus in the school play?
Perfect for reluctant readers and word lovers alike, Dan Gutman's hugely popular My Weird School chapter book series has something for everyone. Don't miss the hilarious adventures of A.J. and the gang!