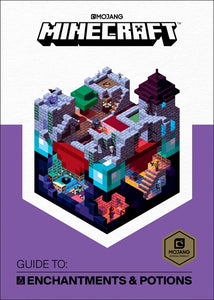 Gaming The official Minecraft: Guide to Enchantments & Potions will teach you how to enchant your equipment with useful effects and brew all manner of potions to protect yourself from harm.

The world of Minecraft is perilous: Danger lurks around every corner, and you'll need powerful tools and equipment if you want to survive.
With insider info and tips from the experts at Mojang, this is the definitive guide to Minecraft sorcery.
Collect all of the official Minecraft books:
Minecraft: The Island
Minecraft: The Crash
Minecraft: The Lost Journals
Minecraft: The Survivors' Book of Secrets
Minecraft: Exploded Builds: Medieval Fortress
Minecraft: Guide to Exploration
Minecraft: Guide to Creative
Minecraft: Guide to the Nether & the End
Minecraft: Guide to Redstone
Minecraft: Mobestiary
Minecraft: Guide to Enchantments & Potions
Minecraft: Guide to PVP Minigames
Minecraft: Guide to Farming
Minecraft: Let's Build! Theme Park Adventure
Minecraft for Beginners