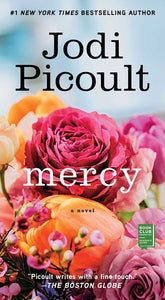 Author: Jodi Picoult
The #1 New York Times bestselling author and "master...at targeting hot issues and writing highly readable page-turners about them" (The Washington Post) weaves an unforgettable and moving novel of a small town gripped by a shocking and controversial murder trial.
Cameron McDonald, the police chief of his small New England town, is forced to make the toughest arrest of his life when his cousin Jamie confesses that he has killed his wife. He claims that since she was suffering from a terminal disease, he ended her life out of mercy.
Now, a heated murder trial plunges the town into upheaval, and drives a wedge into a contented marriage: Cameron, aiding the prosecution in their case against Jamie, is suddenly at odds with his devoted wife, Allie, who believes Jamie so loved his wife, he granted her wish to end her life. And when an inexplicable attraction leads to a shocking betrayal, Allie faces the hardest questions of the heart: when does love cross the line of moral obligation? And what does it mean to truly love another?
Praised for her "personal, detail-rich style" ( 
Glamour
), Jodi Picoult infuses this page-turning and evocative novel with heart, warmth, and startling candor.