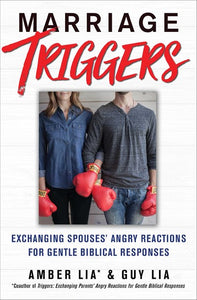 Foreword by Dave and Ashley Willis, authors of
The Naked Marriage
and hosts of The Naked Marriage PodcastA husband-wife team offers practical advice for married couples to end the cycle of reactionary arguments by examining the most common issues that trigger disagreements and applying God's Word to radically transform relationships.
Many couples know their marriage has room for improvement, but it is hard to pinpoint exactly why a relationship is suffering. Often times everyday triggers are the culprit. If you are wondering how to break out of the cycle of reactionary outbursts, cold shoulders, resentment, and pain that harms your relationship, you are not alone. Experiencing peace and joy rather than anger and frustration is not as hard as you think!
Marriage Triggers
walks you through thirty-one of the most common marital issues that sabotage great relationships, like poor communication, lack of spiritual leadership, busy schedules, and different parenting styles. Married for fourteen years, authors Amber and Guy Lia are your typical couple and they share tips for countering negative reactions to triggers with gentle, biblical responses.
Rather than run from the things that cause conflict, Amber and Guy believe these triggers are opportunities for growth, both individually and as a couple. They challenge you to let
Marriage Triggers
renew your commitment to responding gently and biblically towards your partner.