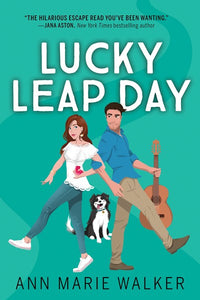 Up-and-coming screenwriter Cara Kennedy has the biggest meeting of her career in two days--but for now, she's on vacation. Her short trip to Ireland is all planned out:
See the sites around Dublin
Don't think about her jerk of an ex she was supposed to spend this trip with
Relax with some Irish whiskey
Propose to a sexy Irish musician on Leap Day
Wake up married
Wait, those last two things weren't on her list...
A whirlwind trip to Ireland is supposed to end with a suitcase full of wool sweaters and souvenir pint glasses--not a husband you only just met!
After one-too-many whiskeys, fledgling screenwriter Cara Kennedy takes a page out of someone else's script when she gets caught up in the Irish tradition of women proposing on Leap Day. She wakes the next morning with a hot guy in her bed and a tin foil ring on her finger. Her flight is in four hours, and she has the most important meeting of her career in exactly two days--nothing she can do except take her new husband (and his adorable dog) back to LA with her and try to untangle the mess she's made of her life...
Perfect for fans of:
Friends to lovers romance
Sexy Irish brogue
Sensual, slow burn romance
When everything goes wrong, but it's so right