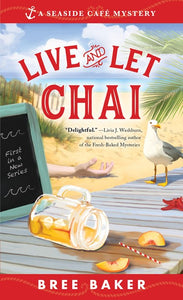 The deliciously delightful first book in the new Seaside Café cozy mystery series
Sun, sand, and tea are just three of Everly Swan's favorite things. Her batty beekeeping great aunts and small, coastal hometown of Charm, North Carolina, round out the top five. So returning to Charm for a fresh start on her wilting life is an easy decision for Everly, and opening a new seaside café and iced tea shop puts the proverbial icing on her legendary lemon cakes.
Everything is just peachy until a body turns up on the boardwalk outside her home, and a jar of her proprietary tea is found at the victim's side. Now, Detective Grady Hays, Charm's newest and most mysterious lawman, has named Everly as his number one suspect, and Everly's new start is about to go up in smoke unless she can dish up the real killer.