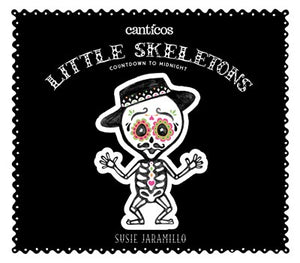 Little Skeletons/Esqueletitos: Countdown to Midnight is the 5th book from the Canticos collection.
2018 International Latino Book Awards winner for Best Latino Picture Book.
This book is based on the song "Los Esqueletos Salen de la Tumba" (The Skeletons Come Out of the Tomb) .
With Mexican-inspired black and white hand drawn art, it is a festive Halloween and Day of the Dead celebration. This book has been included in the 2018 Tejas Star Reading List.
Children can read the book, sing the song, move the hands of the clock or shut off the lights to watch the little skeletons glow in the dark!
Inspired by beautiful calavera art by José Guadalupe Posada, this book is not just for kids. The hand-drawn art make this a great coffee table book for lovers of Mexican art.
Canticos animated videos are now streaming across Nickelodeon's digital platforms. Watch them now at nickjr.com/canticos
Concept: Telling time & counting from one to 12.
Format:
Novelty book with an accordion fold so the book can be opened completely and laid flat or made to stand so children can surround themselves with the story.
Interactive lift-the-flap features.
Reversible with the original Spanish song on one side and an English adaptation on the other side.
A moveable clock at the start of the book will tempt little fingers to change the time along with the story.
Comes in a slipcase.
Children can also download the FREE companion app at canticosworld.com/apps/ as well as watch the sing along video at canticosworld.com/videos
Book summary Follow the little skeletons as they go about their surprising and intriguing day while counting down from 1 PM to midnight.
About the Series: Canticos is a collection of the most beloved nursery rhymes and children's songs from all over the Spanish-speaking world. Canticos creates bilingual books, apps, and sing-along videos.