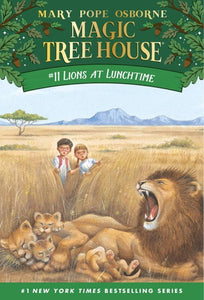 Juvenile Fiction, Paperback
The #1 bestselling chapter book series of all time celebrates 25 years with new covers and a new, easy-to-use numbering system!
"Where are the lions?" Jack wonders when the Magic Tree House whisks him and his sister to the vast plains of Africa. Before he can find out, Annie starts to help hundreds of wildebeests cross a rushing river. Next they follow a honey of a bird and meet an awesome Masai warrior. Jack hopes any lions will just stay away. Jack is about to be very disappointed...
Did you know that there's a Magic Tree House book for every kid?