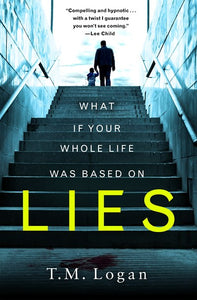 Thriller, Hardcover
***SALE BOOKS MAY HAVE A PRICE STICKER ON THE COVER OR SPINE***
What if you have the perfect life, the perfect wife and the perfect child—and then, in one shattering moment, you discover nothing is as it seems?
It's the evening drive home from work, a route Joe Lynch has taken a hundred times with his young son. But when he unexpectedly sees his wife's car ahead of them, he decides to follow her—and ends up witnessing her secret rendezvous with another man. The encounter will tear two families apart and leave an innocent man set up to take the fall for a murder.

Joe finds himself in the sights of a ruthless killer determined to destroy everything he treasures. He will do whatever it takes to protect his family, but as the net tightens around him, his life begins to fall apart. Soon, Joe is in a life or death struggle with a cunning opponent who is always one step ahead.

Lies poses the question: Can we ever really trust those closest to us?

In the tradition of The Girl Before by J.P. Delaney and Behind Closed Doors by B.A. Paris, Lies by T.M. Logan is an unputdownable thriller in which each chapter changes the meaning of what came before, keeping the reader guessing until the jaw-dropping finale.