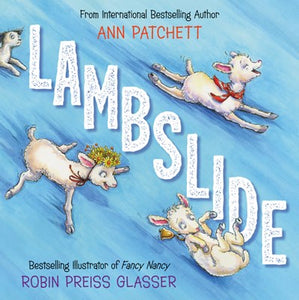 Juvenile Fiction, Hardcover
From the international bestselling author of Bel Canto and Commonwealth, Ann Patchett, and the bestselling illustrator of the Fancy Nancy series, Robin Preiss Glasser, comes a hilarious children's story about a slide made just for lambs.
Nicolette Farmer is running for class president, and the rest of the Farmer family tells her she'll win by a landslide. A pack of overconfident lambs mistakenly hear lambslide and can't believe there's a slide made just for them. But when they can't find one on the farm, there's only one thing left to do: take a vote!
They campaign. They bargain. They ask all the other animals if they, too, would like a lambslide.
Will the lambs ever get their special slide?
Find out in this epic collaboration between Patchett and Glasser, who create the perfect children's book.