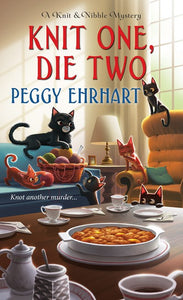 Cozy Mystery, Mass Market Paperback
When Arborville, New Jersey's snooty theater scene is upstaged by a shocking murder, Pamela Paterson and her Knit and Nibble knitting club must act quickly to stop a killer from making an encore performance . . .
Knit and Nibble's numbers are growing! In addition to a litter of adorable kittens, the knitting club just welcomed their newest member, Caralee Lorimer, who's learning to knit for her upcoming role in A Tale of Two Cities. According to the amateur actress, the behind-the-scenes drama at the theater is getting downright catty, and Caralee wants a reckoning for Arborville's pretentious suburbanites. Her claws are out, and just like her character in the play, Caralee is ready to name names. But before she can finish her snitchy stitches, Caralee is killed in a suspicious theater accident. Someone thinks they've staged a perfect murder, but Pamela and her Knit and Nibblers are ready to pounce on the real killer . . . before it's curtains for anyone else!
Knitting tips and delicious recipe included!