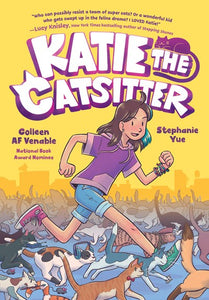 NOMINATED FOR MULTIPLE STATE AWARDS!

Calling all Raina Telgemeier fans! Introducing an irresistible new middle-grade graphic novel series about growing up, friendship, heroes, and cats (lots of cats!)--perfect for fans of

 

Guts,

 

Awkward

 

and

 

Real Friends

 

(not to mention anyone who loves cats!)

"Readers will revel in the heroic antics." --The New York Times


Katie is dreading the boring summer ahead while her best friends are all away at camp--something that's way out of Katie and her mom's budget, UNLESS Katie can figure out a way to earn the money for camp herself. But when Katie gets a job catsitting for her mysterious upstairs neighbor, life get interesting. First, Madeline has 217 cats (!) and they're not exactly . . . normal cats. Also, why is Madeline always out EXACTLY when the city's most notorious villain commits crimes?! Is it possible that Katie's upstairs neighbor is really a super villain? Can Katie wrangle a whole lot of wayward cats, save a best friendship (why is Beth barely writing back? And who's this boy she keeps talking about?!), AND crack the biggest story in the city's history? Some heroes have capes . . . Katie has cats!

Don't miss the next Katie the Catsitters—

Katie the Catsitter 2: Best Friends for Never

 and

 

Katie the Catsitter 3: Secrets and Sidekicks

!

A Florida Sunshine State Reader Award nomineeA South Carolina Book Award nomineeA Connecticut Nutmeg Book Award nomineeA Vermont Golden Dome Book Award nomineeA Maine Student Book Award nomineeA North Carolina Children's Book Award nomineeAn Indiana Young Hoosier Book Award nomineeAn Illinois Bluestem Readers' Choice nomineeAnd more!