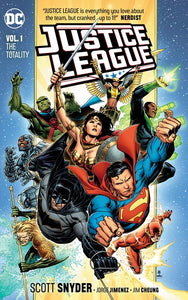 Graphic Novel/Comics
NEW ERA. NEW JUSTICE. NEW DOOM.
Comics legends Scott Snyder and Jim Cheung launch the Justice League into a cosmos-shaking mystery! Superman. Batman. Wonder Woman. Aquaman. The Flash. Cyborg. Green Lantern. Hawkgirl. Martian Manhunter. Nine heroes with powers as different as their personalities, but one thing in common: a dedication to defending the Earth. They are the Justice League, and they have never seen anything like this.
They call it the Totality: the concentrated essence of the secret Source of all things. When it crash-lands in the Nevada desert, everyone and everything that comes into contact with it comes out... changed. And power like that attracts the power-hungry. The mad, the merciless, the monstrous.
The Legion of Doom.
Lex Luthor has assembled the Justice League's archnemeses--Sinestro, Black Manta, the Cheetah, Gorilla Grodd and The Joker himself--into an unstoppable alliance, out to seize the Totality and use it for their own unspeakable plans, beginning with a brand-new Lantern Corps...
It's League versus Legion as the universe's greatest heroes and villains collide in Justice League Vol. 1: The Totality, from superstar writer Scott Snyder ( Dark Nights: Metal) and artists Jorge Jimenez, Jim Cheung and Doug Mahnke. Collects Justice League #1-7. A new era for the DC Universe begins here!